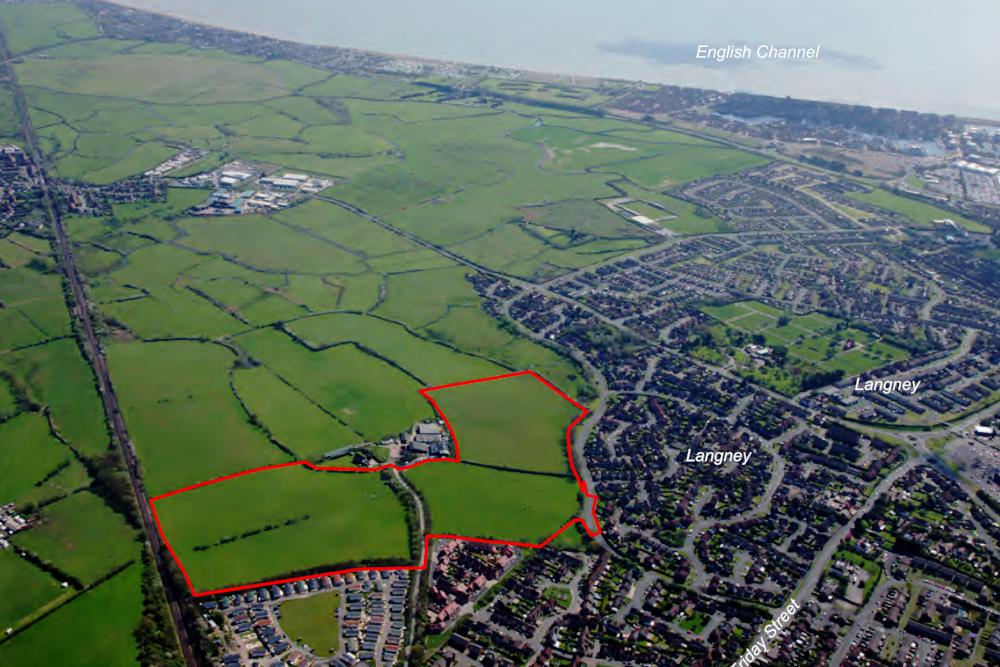 Land for the Friday Street Farm site (Photo from Eastbourne Borough Council)
Proposals connected to a controversial housing development have been agreed by Eastbourne planners after returning to committee for a third time.
On Tuesday (February 23), Eastbourne Borough Council planners approved an application connected to proposals to build 250 houses on the Friday Street Farm site off of Pennine Way, which sits across the authority's planning boundary with Wealden District Council.
The wider proposals had already been given outline planning permission by Wealden, with Eastbourne planners asked to sign off on the scheme's access arrangements via Pennine Way.
Planning committee chairman Jim Murrary said:
"I come from Hampden Park and we've got a very similar problem up there with Brodericklands, where we've got 350 houses being built right on the border.
"But we were in a position where the planning permission had been granted by Wealden and we didn't have anywhere we could go, it is almost an identical situation.
"It is very frustrating when we feel as if we are being bullied into this situation, but we have fought for everything that we possibly can do legally and we've been given everything we can do legally."
The application had been before the committee twice already – first in November, then in January – but was deferred both times as councillors sought "safeguards", including guarantees on highways improvement works.
In recommending approval, officers said these safeguards could now been secured through legal agreement.
This, officers said, included assurances that works were planned to improve the junction of Golden Jubilee Way and Dittons Road.
Officers said funding for this work is due to come from a £35m government programme to improve the A22.
However, officers also said that Wealden District Council had also confirmed that if the wider project monies do not materialise then they hold sufficient funds to cover the works.
This point was not lost on ward councillor Alan Shuttleworth, however, who said the funding arrangements 'sound more like Del Boy than the watertight planning agreements that are required'.
Cllr Shuttleworth said:
"This is the fifth planning committee I have addressed now about the Friday Street Farm application and in my view, nothing significant has changed in terms of the basic application.
"This application should be refused."
He added:
"As far as the traffic issues are concerned, I reiterate my objection and ask the committee to refuse planning permission on the grounds that the additional traffic will cause an unacceptable severe congestion impact without the necessary mitigations, which frankly are still not guaranteed.
"I remind the committee that Pennine Way is the only route in and out of this area for many hundreds of existing properties, never mind the increased traffic from this development."
While the application was eventually approved, several committee members expressed similar views to Cllr Shuttleworth.
On this topic, Cllr Robin Maxted argued Wealden planners had only approved the wider scheme (which they had initially refused) due to "fear of appeal".
He said:
"So Eastbourne Borough Council's planning department and now ourselves are left with this mess of an application which should never have been granted by an authority that bears no consequences.
"Everything is going to adversely affect the people of Pennine Way and Eastbourne Borough Council. The risk [of appeal] has now been passed to us if we were to refuse this application and we're over a barrel."
He added:
"I do feel as if we've exhausted every avenue and are left with a Hobson's choice."
Following further discussion the application was approved with five votes in favour, two votes against and one abstention.
Officers said the previously requested safeguards would be secured through a legal agreement, which would be tied to the planning permission.
This legal agreement would also make Eastbourne Borough Council a joint signatory of an agreement covering the wider development, giving the authority joint enforcement powers with Wealden.
For further details see application reference 190706 on the Eastbourne Borough Council website.