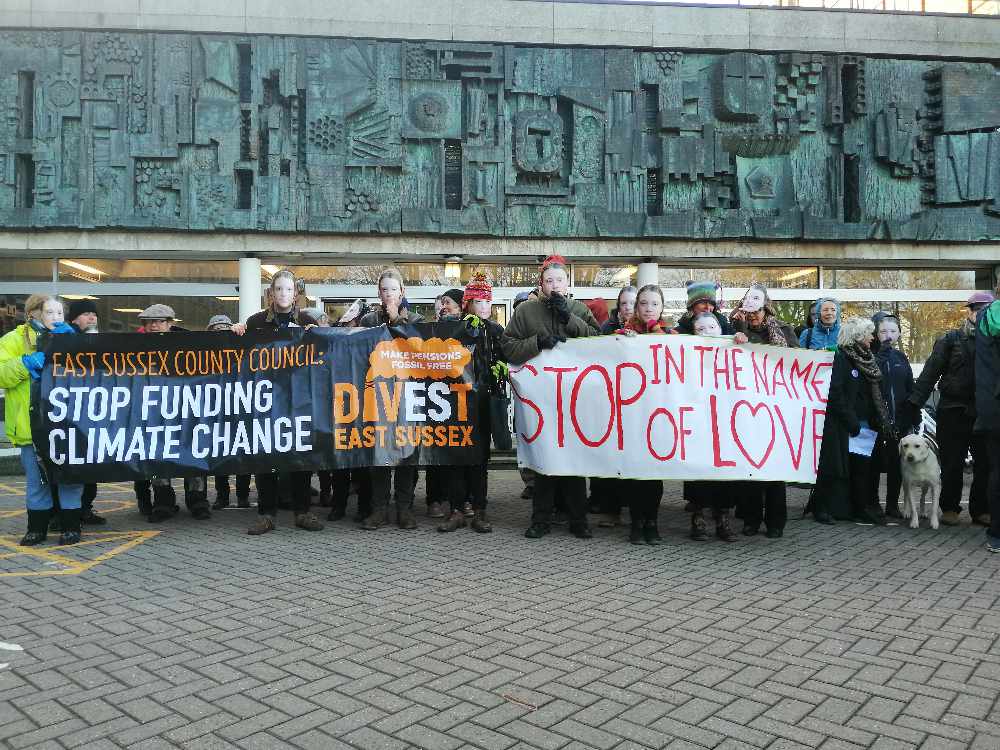 Climate change campaigners have criticised what they consider to be "ducked questions" and a lack of public involvement at East Sussex County Council meetings.
Following a full council meeting on Tuesday (February 9), the campaign group Divest East Sussex hit out at pension committee chairman Gerard Fox, arguing he had "ducked" a question which had been repeatedly posed by campaigners.
They also criticised the lack of opportunities for public speaking during online meetings, saying it had made it impossible to challenge the response.
The question reads:
"Does the East Sussex Pension Committee accept that, because burning fossil fuels is the key driver of global warming, the goals of the Paris Climate Agreement cannot be achieved without the rapid alignment of the big fossil fuel companies with a 1.5°C pathway?"
For the uninitiated, the Paris Agreement is a multinational commitment to avoid dangerous climate change by reducing emissions, thereby limiting global warming to well below 2°C.
The 1.5°C pathway, means putting in place measures which would give 50 per cent or greater odds of limiting global warming to below 1.5°C, without assuming the use of technologies which don't yet exist.
Campaigners from Divest East Sussex have submitted some form of the question at the past three full council meetings.
It was previously submitted as part of questions which also asked the pension committee to provide an example of any fossil fuel company on the 1.5°C pathway and at what point will the fund divest from those that do not.
In all the question has been submitted 335 times, with 135 of those submissions at February's meeting alone.
In his most recent written response to this question, Cllr Fox said:
"Question three is a new question asking if we accept that big fossil fuel companies need rapid alignment to enable the 1.5°C pathway.
"The relationship between the burning of fossil fuels and climate change is well established and accepted, as is the reliance of the global economy on these fuels for 80 per cent of its primary energy, and indeed the failure of most Paris signatories to align their nationally determined contributions (NDCs) with its objectives.
"The fund's engagement policy is supportive of this alignment and we are actively trying to influence companies that are not aligned with the Paris agreement to ensure they are on a suitable transition pathway.
"While the Pension Fund recognises a rapid increase of scale and actions are required to reduce the risks of climate change it is also conscious of the challenge of this and that a just transition is integral to many of the global commitments adopted by countries within the Paris agreement.
"It is necessary to ensure the transition is shaped by shifts in service, labour markets, changes in technologies and that the transition is equitable within the workforce, regions, communities and industries; a rapid alignment may not be consistent with this and the transition needs to be managed across the world through policy."
Cllr Fox goes on to say that the pension fund has fiduciary responsibilities and that political or personal views cannot be taken into account in managing its assets.
He also says that while the pension fund is administered by East Sussex County Council it is not its owner. He says this means the fund's decisions are 'separate' from the county council's climate emergency declaration.
The full response can be found on the county council's website.
However, campaigners say Cllr Fox's response fails to provide a direct answer to their question.
A spokesperson for Divest East Sussex said:
"Cllr Fox knows perfectly well that catastrophic global warming cannot be averted without the rapid alignment of the big fossil fuel companies with a 1.5°C pathway.
"But he won't adgmit this because he refuses to stop investing local people's pensions in these companies – despite the fact that not a single one of these companies is anywhere near aligning with such a pathway.
"It's time for East Sussex County Council to end its climate hypocrisy and divest the East Sussex Pension Fund from the fossil fuel companies that are taking us all over the edge of the climate change cliff.'
"Members of the public have been unable to challenge Cllr Fox at these meetings about his failure to answer their questions because public speaking has been suspended at council meetings since July, due to the 'large number of public questions'."
……………………
An East Sussex County Council spokesperson said: "We make every effort to answer enquiries throughout the year and this includes publishing answers to a large number of questions about pensions submitted in the few days before each meeting of full council.
"Follow-up enquiries about pensions can be made to East Sussex County Council at any time.
"While it is meeting virtually because of Covid-19, full council has agreed to suspend the option of asking supplementary verbal questions because of the complexity of running large online meetings.
"However East Sussex County Council has worked hard to ensure transparency of decision-making and public access to meetings during the pandemic."