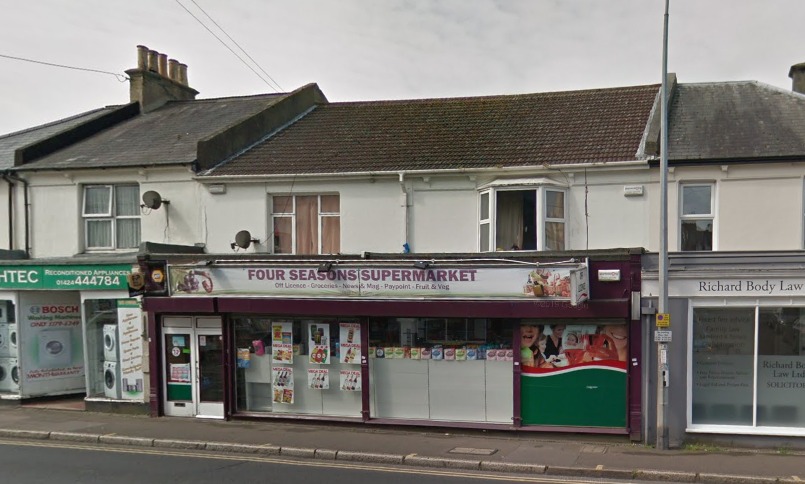 Four Seasons Supermarket. Image via Google Maps.
Councillors have retired to consider the future of a shop in Hastings, which was found with counterfeit wine in its stockroom.
On Thursday (February 25), a Hastings Borough Council licensing panel met to consider an application to revoke the alcohol sales licence of Four Seasons Supermarket, a convenience store in Bohemia Road.
The panel heard how East Sussex Trading Standards officers had visited the store in June and found several bottles of Blossom Hill White Zinfandel in its stockroom, some of which were later confirmed as counterfeit.
Speaking at the hearing, Paul Davison of East Sussex Trading Standards said:
"Mr Nirmalan [a member of staff] was asked a question about it and he remarked that he understood that the items weren't for sale, that the item had been removed from sale by the manager because a customer said that they tasted funny.
"Seven bottles – amongst other bottles not of this type – were taken from the premises. Three were taken for food sampling and the other four were taken suspected of being counterfeit.
"Almost immediately we were able to confirm that three of the four bottles were confirmed as being counterfeit.
"Subsequent to that we discovered that the samples which were submitted for food sampling weren't genuine items. They fell well below the supposed alcohol content.
"Whilst it wasn't concluded that there was a dangerousness in respect of the item, it is fair to say that, [with] the way these products are made, you can't guarantee you are going to have the same consistency across bottles."
Mr Davison also said the inspection was one of several which had taken place in the town in light of information that counterfeit wine of this brand was being circulated 'in certain pockets of the Hastings and St Leonards area'.
He added that one of the reasons Four Seasons was targeted in particular was due to another 'under investigation' store claiming they had received stock from the business.
After the inspection, Mr Davison said the store had been asked to provide information on where the wine had come from, known as traceability.
The business was unable to provide this information, but in an email business director Thushya Inthiakumar initially claimed that she believed the bottles had been in the stockroom since she had taken over the premises in 2016.
Mr Davison said this would be impossible, however, as the design of the product label was not made until 2017.
But Mr Muthupandi Ganesan, a lawyer acting for Mrs Inthiakumar, said his client's claim had been due to confusion over which products were being discussed and it had not been her intention to mislead.

This, he said, was partially due to a language barrier and also because she had not been at the store at the time of the inspection, as she and her husband had been shielding due to Covid-19.
Mr Ganeson went on to say his client accepted the findings that the wine was counterfeit, but urged the committee to consider an alternative to revoking the licence entirely.

He said:
"My client, the licence holder, does not in any way detract from the seriousness of this. They accept that.
"What they invite the committee to do is consider a remedy, an action, that is less severe than revocation.
"Revocation, in my submission, should be reserved for the most serious of cases where there have either been multiple breaches or breaches that are so severe that there could not be any other option.
"In my submission, this is a case where it would be wholly appropriate to consider a lesser action."
Mr Ganeman said a more appropriate action would be to suspend the shop's licence for a period and put in place improvement measures.

He also said the store's Designated Premises Supervisor (currently Mrs Inthiakumar's husband, Paramaguru Inthiakumar) could be replaced with Mr Niraman.
In further mitigation, Mr Ganeman argued that the counterfeit product had been taken off sale, was only present in small quantities and was not found to be dangerous after testing.
Mr Ganeman said:
"In my submission, the ability to provide a new designated premises supervisor will allow Mrs Inthiakumar to learn from this particular instance, to ensure she has measures and protocols in place so that in the future there is a very clear traceability exercise available on demand.

"Secondly, this has been a very salutary lesson for Mrs Inthiakumar. She has learned the importance of this, she has learned the importance of the provisions under the licensing act.

"This has cost her money, her time and more importantly reputation. She does not in any way want to be in front of a committee of this nature again."
While trading standards had initially called for revocation alone, Mr Davison said this had been due to what was considered a lack of engagement on the part of the business.
He said this had improved in the run up to the hearing, however, and that Trading Standards would be open to a suspension as an alternative option.
Mr Davison said:
"I wouldn't like the panel to think there was some sort of indecisiveness from Trading Standards whereby our original application spoke of revocation only and now I've opened up to other options.

"Please bear in mind that at the time the submission was made we were getting no real interaction with the other party, understandable perhaps with the language barrier which we've heard about today, therefore that really was our only course of action.
"The reason I've now said we are open to other options is because there is now that engagement and perhaps a better picture has emerged from that other party, when before we were pretty much met with a wall of silence."
After hearing from all those involved, the panel retired to discuss the application in private. Their decision is expected to be published sometime within the next five working days.