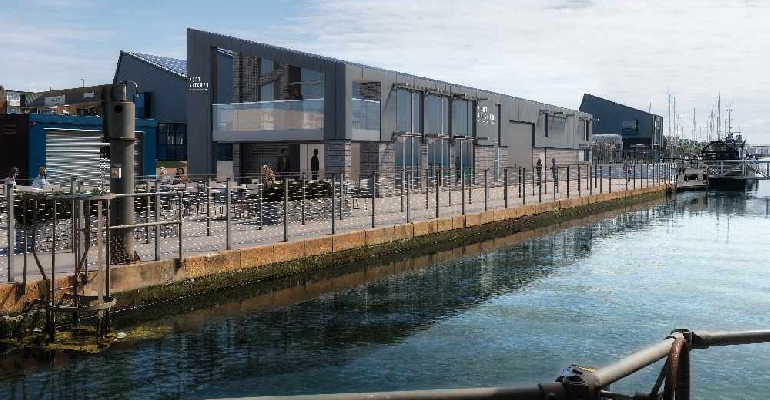 A visual has been released as work begins on a new development for businesses and customers to enjoy at Shoreham Port.
The Trust Port is hoping to collaborate with local partners and provide employment locally with the design and build of the new Port Kitchen project.
The kitchen will offer refreshments such as speciality coffee and fresh food. Shoreham Port also said it hopes to provide a vibrant atmosphere with unparalleled views across the harbour.
It will be located next to the award-winning Lady Bee Enterprise Centre and will serve people year-round as they pass over the locks, the Port's business network and tourists visiting the area.
The Port is collaborating with Commercial Catering Contracts (CCC) for the kitchen fit out. The CCC have also worked with local establishments including Murmur Restaurant in Brighton and Wiston Country House in Steyning.
Another tenant, Love Your Workspace, will design and furnish the outdoor space. The company has previously worked on restaurant The Chilli Pickle and workspace Wired Sussex, both in Brighton.
Polly Child, Port Kitchen General Manager commented
"We're excited to be supporting our business tenants through the Port Kitchen project and to be making use of the expertise right on our doorstep.
"The café will bring many benefits to our local economy and community that go beyond the great space in Southwick that we are creating.
We're really proud of the talent and spirit we have right here in the footprint of the Port."
David Blood, Director at Posture People/Love Your Workspace commented
"We have been tenants of Shoreham Port for six years, during which time we have been impressed by the progress and direction the Port continues to take. Moving to the Port allowed our business the space to grow and enjoy the supportive and friendly community the Port offers.
"We are very excited to be a part of the Port Kitchen project. Working closely with Polly, we have sought to supply furniture which will complement the unique location and contemporary nature of the building.
"Our key aims were to deliver hard wearing and design led products that also offered comfort in what will be a busy and vibrant community space."