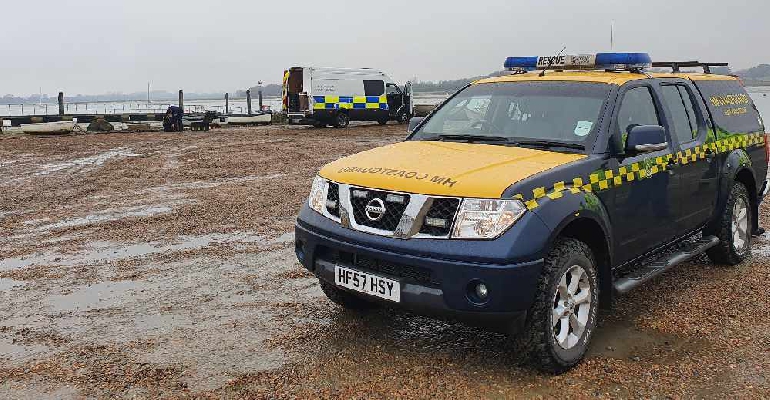 Selsey's Coastguard Rescue Team attended two reports of suspected unexploded ordnance yesterday (Monday 22).
The team were first paged to reports of possible ordnance at East Beach in Selsey, shortly before midday.
Officials identified the item as not ordnance, and actually an old concrete outpipe.
Shortly after, at around 12.26pm, the team were paged to meet and assist the Royal Navy E.O.D. (Explosive Ordnance Disposal Team) with launching their RHIB at Selsey Lifeboat Station.
A 95 metre dredger, around10 miles south of Selsey, had picked up a piece of ordnance and called the Coastguard to inform them.
The Royal Navy E.O.D Team met the coastguard team at Selsey Lifeboat Station and were hoping to launch from Selsey.
However, the tide meant they were unable to safely launch from the Dive Ramp at East Beach.
Teams relocated to Itchenor where the E.O.D. launched from.
Both Selsey Lifeboats were tasked to assist with the incident; Selsey Lifeboat met E.O.D. at the entrance of Chichester Harbour and both vessels proceeded to the dredger where the Selsey ILB awaited their arrival.
Once the E.O.D. had safely launched the team stood down, returning to station at 2.50pm.
A spokesperson said:
"The first informant did the right thing by calling 999 and asking for the Coastguard.
"If you come across anything suspicious or unusual on the beach do not touch it and dial 999 and straight away.
"The coast and the sea can catch you out whether you're local or not.
"Our message remains: call 999 Coastguard if you're in trouble. Please help us and our families to stay safe. Be aware of the risks, and keep your distance."